Armidale Aboriginal Memorial
Starfish's Feasibility Study into establishing an Armidale Aboriginal Monument has recommended the creation of a series of monuments over time to tell "the world's longest story" ~ the story of Aboriginal Australians, from ancient pre-history through to contemporary times.
While there are many monuments in Armidale which acknowledge the contributions of European settlers and the wider community, there are only a handful which recognise Aboriginal people.
Recommendations
The Feasibility Study recommends the creation of a series of individual monuments over time to form a larger story or song-line. The monuments will be positive, inspiring, educational and attractive.
The recommended location is The Creeklands and Walking Track, which is central, accessible and visible. It can also be linked via tributaries, such as Black Gully, to key places including the Armidale Aboriginal Cultural Centre and Keeping Place, the Ooralla Centre at the University of New England and several schools. These waterways and public spaces are beautiful setting for festivals, events, picnics, walkers and bike-riders as well as being the back-drop for the many homes, clubs, cafes, sports fields and more which align it.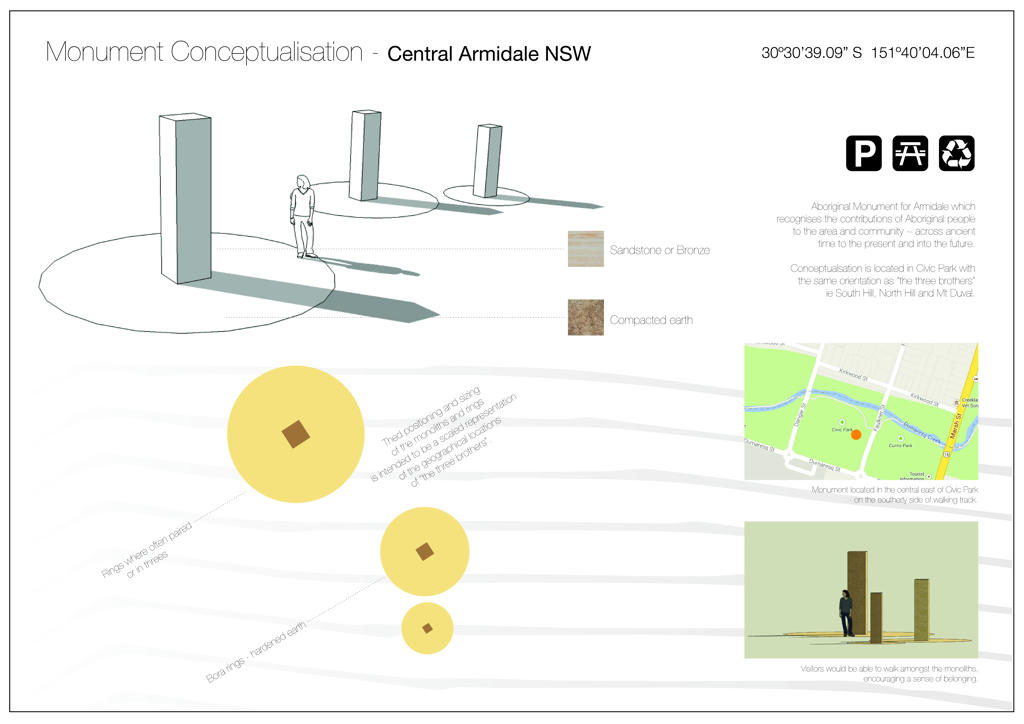 Feasibility Study Research Process
Two broad streams of research were undertaken:
Social research of local stakeholders and community leaders regarding their views
Technical research regarding Aboriginal Monuments, design, planning and funding
The social research included the following activities:
Public Poll (191 respondents)
Short Survey (40 respondents)
One-on-one meetings with several dozen elders, key stakeholders, key organisations and community leaders
Youth forums with Duval High School and BackTrack Youth Works
Receipt of four public submissions.
The technical research included the following activities:
Identification of possible funding
Analysis of existing Aboriginal memorials across Australia
Negotiations with potential local partners
Meetings with Armidale Dumaresq Council regarding planning and approval matters
Discussions with Arts North West regarding artistic design and maintenance requirements.
Starfish's Role
Starfish was engaged by the Gayinyaga Aboriginal Community Consultative Committee, which forms part of Armidale Dumaresq Council, to assess the feasibility of creating of the Aboriginal Memorial.
Having completed the Study, Starfish's role now is to support the implementation of the recommendations particularly in regards to establishing a project governance structure, negotiating partnerships and identifying possible sources of funding.
Find Out More
Final Report & Recommendations (3.11Mb)
Armidale Dumaresq Council Aboriginal Action Plan 2011-2015