Massacre map will force Australians to re-examine our country's roots
Researchers at the University of Newcastle are attempting to gain a clearer picture of events during the frontier wars by gathering evidence of massacres of Indigenous people which are seldom discussed and have never made it into most history books.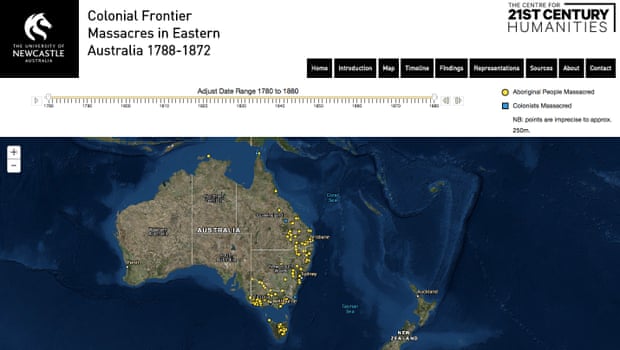 Lead researcher Lyndall Ryan and her team are going right back to explorer and settler records and using Indigenous oral history as their sources. Their strict criteria for inclusion in the map, and the difficulty of finding accounts due to the fact that the perpetrators usually covered their tracks well, means that their estimates are conservative. Nevertheless, they estimate that more than 65,000 Aboriginal and Torres Strait Islander people were killed in massacres or conflicts between 1788 and 1930 in Queensland alone.
The map was released on the 5th of July and will be added to over time. The researchers hope that others will contribute to the project so as to build the most accurate picture possible of the events during the frontier wars, changing the way this period of Australian history is understood and taught. However, Ryan acknowledges that this will be confronting, both for the researchers themselves and for the Australian pubic, who may not wish to face up to this brutal version of their country's history.
"I would like to hope that over the next five or 10 years there will be a much wider acceptance that this was a feature of colonial Australia, and it will change the way we think about Australia," she said.
Re-post ~ Map of massacres of Indigenous people reveals untold history of Australia, painted in blood by Calla Wahlquist in The Guardian
https://starfish-initiatives.org/wp-content/uploads/2013/04/SF_Print_Initiatives.png
0
0
Adam Blakester
https://starfish-initiatives.org/wp-content/uploads/2013/04/SF_Print_Initiatives.png
Adam Blakester
2017-08-10 02:03:33
2017-08-10 02:03:33
Massacre map will force Australians to re-examine our country's roots